i think i am going to head back home next week.

money's finally running out, i kinda miss home, and stuff seems to be worked out with Samantha.

this trip's been awesome, but apparently not awesome enough that i'm still willing to trade the warm weather of South Carolina for the freezer that's Ontario, haha.

naw, this has been awesome actually. especially the cougars.
EDITED BECAUSE IT TURNS OUT THIS WHOLE THING IS FUCKED.
It turns out Across Five Aprils and Victory Records ACTUALLY ARE GOING TO SUE ME.
I just got a Cease and Desist letter in my email from Victory's attorneys.
I
am going to post a picture of the letter in a little bit
have posted pics as proof that i am about to lose my mind. i don't knwo what to do. I CANNOT BELIEVE THIS CRAP!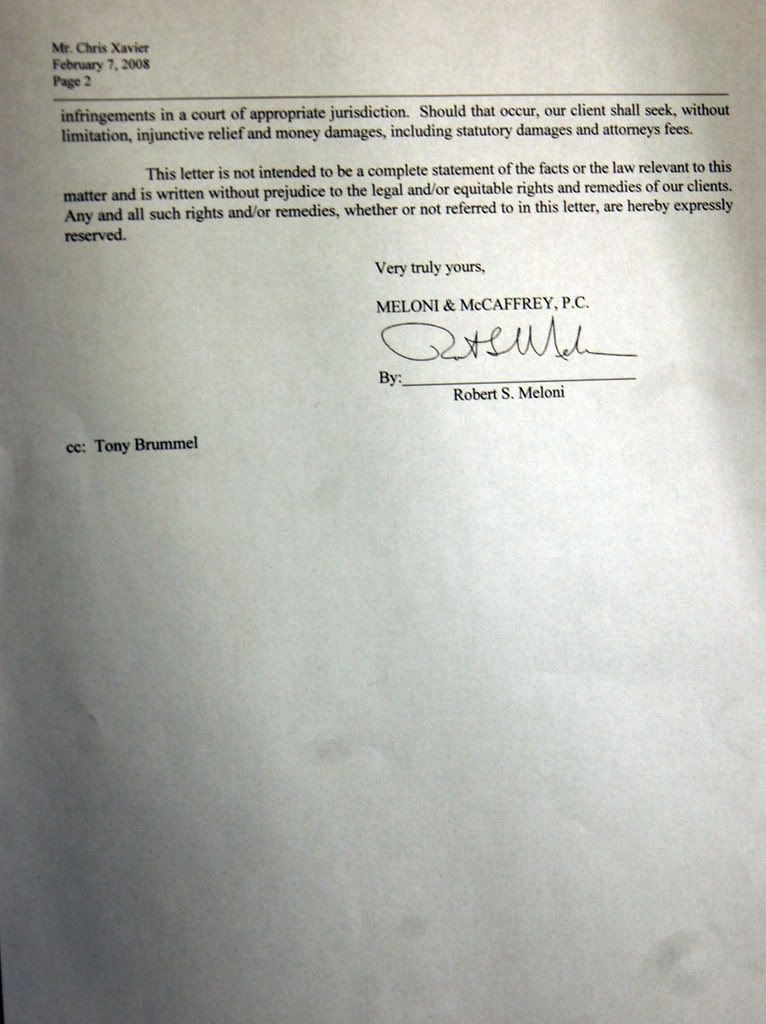 =============================
MELONI & MCCAFFREY, P.C.
ATTORNEYS AT LAW
1350 Avenue of the Americas
Suite 3100
New York, N.Y. 10019
Telephone: (212)957-5577
Facsimile: (800)659-3985
BY E-MAIL February 7, 2008
Mr. Chris Xavier
chrisX519@gmail.com
Ontario, Canada
Re: "Lonesome Traveler" Web Blog
Dear Mr. Xavier:
This firm is litigation counsel for Victory Records, Inc. ("Victory"). I am writing in connection with the series of recent postings on your "Lonesome Traveler" web blog. In those postings you have published and/or provided access to videos and/or sound recordings of live and/or unreleased versions of songs owned and controlled by Victory, including, but not limited to Farewell to Freeways' song "Lemmings", Secret Lives of Freemasons' song "Airplane", Dead to Fall's song "Cropgrower" and Across Five Aprils' song "This Means Not Welcome" (the "Songs"). In addition to owning the sound recordings and musical compositions, Victory also owns and controls all rights to the name and likenesses of each of those bands.
Your conduct constitutes, among other things, copyright infringement under the laws of the United States.
We will assume, for purposes of this letter only, that until now you have been unaware that your conduct exposes you to legal liability. However, you are hereby placed on notice that Victory will hold you fully responsible for any damages arising from the illegal publication of the Songs, unless, by 5 P.M. Eastern Time, on February 8, 2008, you: (i) remove the Songs from the Lonesome Traveler website and any other websites maintained, owned, controlled or operated by you, including, without limitation, your MySpace website; (ii) that you disable all links to those Songs on those websites; and (iii) that you provide us with written confirmation that you have done so. We also demand that you identify the sources that provided you with the video and/or audio recordings of the Songs that you have posted on your websites.
Your failure to comply with the foregoing demands will leave our client with no choice other than to commence legal proceedings against you and all other parties responsible for these copyright infringements in a court of appropriate jurisdiction. Should that occur, our client shall seek, without limitation, injunctive relief and money damages, including statutory damages and attorneys fees.
This letter is not intended to be a complete statement of the facts or the law relevant to this matter and is written without prejudice to the legal and/or equitable rights and remedies of our clients. Any and all such rights and/or remedies, whether or not referred to in this letter, are hereby expressly reserved.
Very truly yours,
MELONI & McCAFFREY, P.C.